Coming Soon
Student Achievement Corner!
(This will contain pictures of cakes from my students.)
Cakes from Singleton's Kitchen
Each and every cake is freshly made to your specifications,
a unique, one-of-a-kind creation!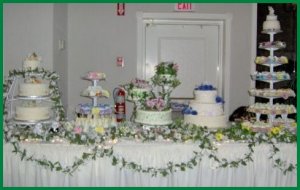 Here are some cake-related terms you may hear Jane mention when describing the techniques and details she applies in her delicious masterpieces...

Basketweave: A piping technique that features interwoven vertical and horizontal lines (like a wicker basket).


Buttercream: A smooth, creamy icing that stays soft so it's easy to cut through. It can be colored and/or flavored. Also used to create piping, swags, and other borders, as well as decorative rosettes. It can be used as filling, too.


Cornelli: An elaborate piping technique that yields a lace-like pattern.


Dotted swiss: A piping technique that forms tiny dots in random patterns that resemble a fine dot swiss fabric.


Dragees: Round, edible sugar balls coated with silver or gold and used for decorative purposes.


Ganache: A sweet, rich chocolate, denser than mousse but less dense than fudge, which can be used as icing or filling. It is made of chocolate and heavy cream.


Gum paste: This paste of sugar, cornstarch, and gelatin is used to mold realistic-looking fruits and flowers to garnish a cake. Gum paste decorations are edible and will last for years as keepsakes, but they don't taste as yummy as marzipan.


Latticework: A piping detail that criss-crosses with an open pattern.


Marzipan: A paste made of ground almonds, sugar, and egg whites, used to mold edible flowers or fruit to decorate the cake. Marzipan can also be rolled in sheets, like fondant, and used as icing.


Pillars: Separators used in a tiered cake. They can be made of plastic or wood in several lengths to achieve the desired look.


Piping: Decorative details created using a pastry bag and various metal tips. Piping details include leaves, borders, basket-weave patterns, and flowers.


Pulled sugar: A technique in which boiled sugar is manipulated and pulled to produce flowers and bows.


Royal icing: Made of egg whites and confectionary sugar, this icing starts life as a soft paste piped from a pastry bag to create latticework, beading, bows, and flowers. When dry, its texture is hard and brittle. Do not refrigerate.


Torte: A dense cake that does not use leavening agents like baking powder or baking soda.


Whipped cream: Heavy cream beaten to achieve a thick consistency.
Singleton's Kitchen
167 Hobbs Rd
Pelham NH 03076
603-635-2638
FAX: 603-635-2638

info@newhampshirecakes.com

We're not your typical bakery