Coming Soon
Student Achievement Corner!
(This will contain pictures of cakes from my students.)
Specialty Items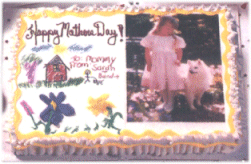 Some of the special items you will find at Singleton's Kitchen are:

Custom Made and Designed Cakes for Weddings, Birthdays, Holidays, Whipped cream cakes, Sugar and Cookie Art, Edible Party Favors, Gingerbread Houses for Christmas, Birthdays, Easter and Valentines Day, Mini Pastries, and all Occasional cookie platters, and Wedding Invitations too.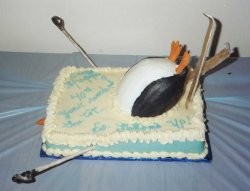 We also do Custom photo work on your cake Just mail or bring the picture to us and we will transfer it onto a beautiful cake that is completely edible!

Picture sizes and prices are as follows:
$11.00 for 7.5" x 10" sheet or 8" circle. (7.5" x 10" image will fit a 9" x 13" or larger cake)
$19.00 for 10" x 16" sheet or 10" circle. (10" x 16" image will fit an 11" x15" or 12" x 18" cake)
$13.00 for Dozen 2" circles for cookies or cupcakes. (all the same image)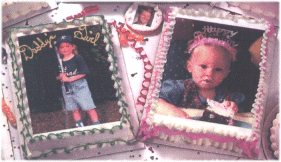 Some examples of what kind of pictures will look great on your Photo cake...

Wedding anniversaries - use your wedding day photo
Birthdays - add you baby picture to your 40th Birthday cake
Graduations - grade school pictures on your high school graduation cake
Family Reunions - special family pictures are a great idea
Add Personalized cookies or cupcakes for any special occasion


The list goes on...


Please note that only snapshot photos that you have taken can be copied. Contact me for more information of the legalities involved for pictures taken by others. If using a photo taken by a professional photographer you must provide a release statement from the photographer to us when placing your order.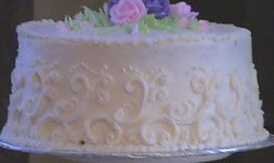 Custom designing can be achieved on your edible photo cake. One photo picture comes with the price of the cake, the picture is scanned as is. If you do not want a cake, the picture price starts at $11.00 and includes shipping. Please allow 3 weeks for picture. If you want special effects please allow an extra week. the work on the picture will begin when picture is received by us.
no charge - Add text
$1.00 - Erase and/or clone
$ .50 - Per added color for black and white pictures
$2.00 - Cropping each picture
$2.00 - Cut and paste
$3.00 - To erase a text already printed on picture and add your own
$3.00 - Remove background or replace background
$4.00 - To add one of our frames
$5.00 - Replace background with another picture that you provide
$2.00 - Each additional picture on same sheet
Singleton's Kitchen
167 Hobbs Rd
Pelham NH 03076
603-635-2638
FAX: 603-635-2638

info@newhampshirecakes.com

We're not your typical bakery